Deluxe Porta Potty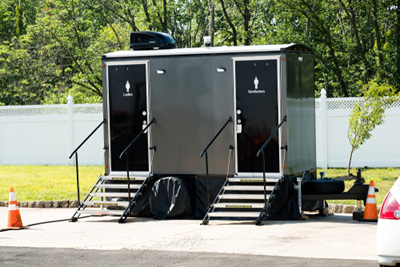 A deluxe porta potty is a special kind of portable toilet designed special occasions such as weddings, parties, and other special outdoor events. It goes beyond the basics of a regular traveling restroom with features that offer comfort and convenience. Some models of deluxe portable potties come with a foot pump flush and even a sink for handwashing. Now that we are experiencing a pandemic, it's essential that washrooms have handwashing stations to help prevent the spread of the coronavirus. By installing deluxe traveling bathrooms in your events, you are doing your part in keeping your community safe and healthy.
More spacious
A deluxe portable potty is also bigger and therefore more spacious than a regular traveling washroom. This means more comfort for your guests. With the extra space, people using the toilet can move inside with ease. This is why a deluxe porta potty is ideal for events where you are expecting to have VIPs and special guests. A regular moveable bathroom is rather cramped. It can be hard to move inside one, especially if you are wearing a dress. A deluxe porta potty offers the best solution to this problem. With a bigger toilet, your guests will not complain of having to deal with a cramped washroom.
Fully stocked
Apart from being bigger than a regular porta potty, a deluxe portable toilet is also fully stocked with essentials. It has everything that a normal washroom has such as soap, paper towels, toilet paper, etc. Of course, it will also have running water for the sink. Some even come with a coat hook where guests can conveniently hang their coats and jackets when they are using the toilet. The idea behind a deluxe portable restroom is to give guests the feeling that they are in a real toilet filled amenities that can make their experience pleasant. Now there's no stopping you from holding your special occasion in an outdoor setting. A deluxe traveling washroom can be set up almost anywhere. You can set it up in a park or even a parking lot.
Provides utmost privacy
Your guests will also appreciate the privacy that a deluxe porta potty provides. It has a lockable door with an "In Use" indicator so people will know if it is being used. Your guests will surely feel safe while using the deluxe traveling restroom. The last thing that you would want to happen in your event is a guest complaining about privacy issues. This kind of portable toilet is also well-ventilated thanks to the air passageways located in strategic parts of the toilet. This is why it feels comfortable to be inside this kind of moveable bathroom. And even if the weather is warm, you will still feel comfortable using it. Indeed, if you care about the comfort and convenience of your guests, you will choose a deluxe porta potty over a regular one.
Aren't you glad that you now have an option for a bigger and more comfortable portable washroom? This is the only type of portable toilet that can match your special event in the Miami area.