Regular Porta Potty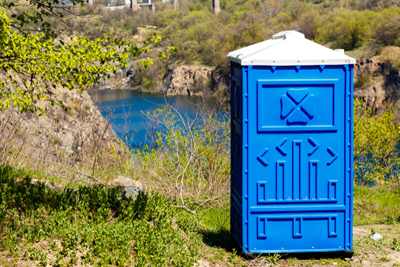 Most of the porta potties we see around are regular mobile units. A regular traveling bathroom is a single portable washroom that lacks several features. It is a cheap alternative, making it one of the most used portable toilets in many events. A regular porta potty has a smaller holding tank and can only serve short term events. You cannot host several guests for an entire day when relying on this unit, but fortunately, there is some good news.
These units can be easily emptied and cleaned thanks to their small holding tank capacities. You should, therefore, confirm with your rental service company whether they offer on-site cleaning and emptying. If not, you can get other bigger units. I am sure that you have seen or used a regular portable toilet at some point.
Another downside apart from their small holding tanks is that these toilets cannot properly serve high-end events. They have fewer features that esteemed guests may not like. Nevertheless, it is only right that we look at these mobile units' features to give you a glimpse of what is in store for you if you choose to rent one, either for your guests or given event.
Features
i) Size
These are single units that are relatively smaller in size. Only one person can use a regular porta potty at any given time, and therefore, they have a smaller width, depth, and height. You can expect breadth and depth of around 45 inches. Their small size also means that these units lag in features. One, they have small holding tanks measuring 50-60 gallons, which necessitates on-site emptying and cleaning. You will not also enjoy features such as a fully functional changing station that is witnessed in other options such as deluxe.
This small size, however, has a number of advantages. One, you can easily rent as many units as you can if you expect several guests. You can have as many as one hundred regular porta potties if you are planning a concert. You can also rent out these mobile units with the deluxe portable potties if you want an upscale.
ii) Design
We wouldn't say that these mobile toilets are poorly designed, but they can't compete compared to other options. They have a plain interior with no or less sophistication. Most of them also lack mirrors and other fancy modifications, which explains why they are cheap. Another notable feature includes the use of anti-slip materials to prevent accidents, which may be fatal at times. A security feature that these units have in their designs is a safety lock, which gives users the level of privacy needed.
iii) Availability
Because of the high demand, these units are usually readily available. Most rental companies stock up these mobile toilets because they are chape and therefore preferred for super large gatherings.
Events
You can use a regular portable toilet for any occasion that has limited fixed toilets. This includes festivals, concerts, and outdoor gatherings. You can, therefore, contact us if you need porta potty services around Miami.